Minster Group HQ becomes self-sufficient with new wind turbine
We can now generate enough renewable energy to power 11 homes with the addition of a brand new wind turbine, saving 9.3 tonnes of CO2 per year.
At Minster Group, we're proud of the steps we've taken to cut our carbon footprint, consume fewer resources and eliminate waste, and now we're also producing clean, green energy.
Since we moved into our purpose-built headquarters in 2016, we've been producing around 24,000kWh of renewable energy each year through our rooftop solar panels each year.
Now, we're about to start generating 33,000kWh with the addition of our own 6kW wind turbine.
Greener energy for greener work
Standing toward the rear of our site near Dunholme outside Lincoln, the turbine will produce clean energy to power our headquarters and provide excess energy to the national grid day and night.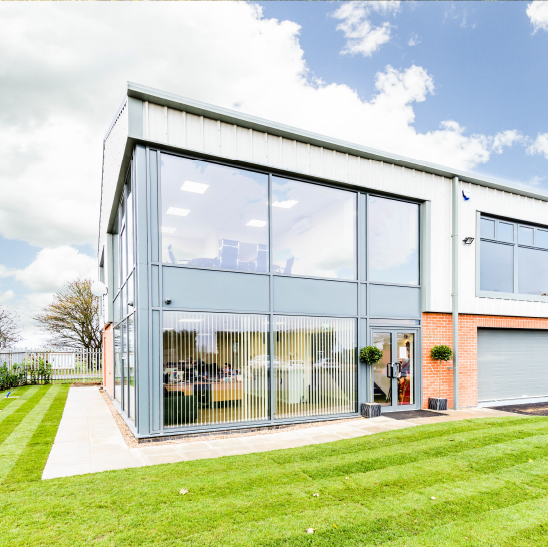 "At Minster, we pride ourselves at the cutting edge of sustainable civil engineering and road surfacing. We're leading the way when it comes to recycling and waste reduction, so now we're able to reduce our impact on the environment even further by generating our own renewable energy.

"Now that we can produce so much green energy, we're also looking into getting some electric vehicles to truly harness the benefits and further reduce our emissions.

"Road surfacing and civil engineering has a major impact on the environment, but we're doing everything we can to make sure that we're one of the greenest firms in the country."

Bruce Spencer-Knott, Founder & MD of Minster Group
Saving 9.3 tonnes of CO₂ per year
In total, our renewable energy sources can produce enough electricity to power 11 homes. Based on the average carbon cost of the UK's electricity supply, our renewable energy should save 9.3 tonnes of CO₂ each year.
This will complement our other carbon-cutting strategies which make road surfacing and civil engineering cleaner and greener.
Our work to reduce the impact we have on the environment has been recognised on a local and national level. Last year, we won one of the UK's most prestigious sustainable business awards, the BusinessGreen Leaders Award for Circular Economy Project of the Year. Previously, we also won Best Business and Overall Winner in the Lincolnshire Environmental Awards.
Find out about our other award-winning green innovations including our recycling and waste reduction systems here.