Minster celebrates 20th anniversary in style
20 years older and we've never looked so good!
This year, Minster turns 20 years old and to celebrate, we're taking an exciting new step into the future with the launch of Minster Group; a new brand which includes Minster Surfacing and Alliance Recycling.
Since we launched two decades ago, we've grown to become a major nationwide contractor; we're leading the industry when it comes to green innovations and the use of technology to offer safer, cleaner and greener civil engineering services.
Our new group name reflects this, and it also celebrates our twenty years of passion, dedication and innovation. From today, you'll spot our new logo as we work on civil engineering projects across the country.
The history of Minster Group
20 years ago, our managing director, Bruce Spencer-Knott remortgaged his home to start Minster Surfacing alongside veteran tarmacker Tony Cole.
While this started as a two-man band, the duo's extensive experience in civil engineering helped the new company to make a profit of more than a million pounds in its very first year.
Minster's continuing success also a testament to the herculean effort that's gone into making the company one of the best in the business. The first year saw Bruce working on site from the crack of dawn before working long nights doing paperwork and the level of dedication which all members of the team put into their work is second to none, with quality being at the centre of everything we do.
In 2007, Minster won its first contract with the Ministry of Defence; beginning a relationship that's seen the company become a trusted supplier to the MoD for more than a decade, working nationwide for the British Army, Royal Navy and RAF – We've even resurfaced Horse Guards Parade.
In 2012, Bruce purchased Tony's share in the business which has continued to grow from strength to strength.
In 2014, Minster began its journey at the cutting edge of green civil engineering and road surfacing when the company became one of the first in the UK to use Foambase recycling technology. Developed by OCL Regeneration, this technology transformed the way Minster's teams work; enabling extracted road material to be recycled and reused to create new surfaces. Since Minster began using Foambase, hundreds of thousands of tonnes of material has been saved from landfill, it's reduced carbon dioxide emissions and it's dramatically cut dependance on crude oil and quarrying.
Minster Surfacing's sister company, Alliance Recycling was founded, helping to increase the amount of material that can be recycled and support clients and supply chain partners in reducing their impact on the environment.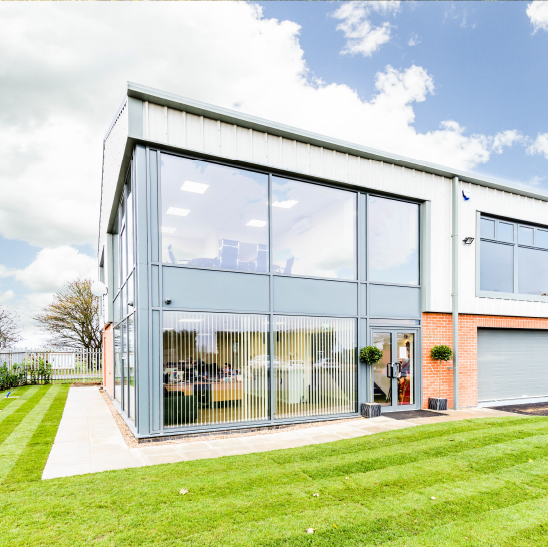 In 2016, Minster and Alliance Recycling moved into our new, purpose built headquarters near Dunholme outside Lincoln. Built by Lincolnshire developer, Stirlin, this three acre headquarters gave us the facilities we needed to grow. It also helped us to offset our carbon emissions further by helping us to produce our own green energy through solar power.
The end of 2017 saw Minster complete it's largest single contract to date, when it replaced the 8,000 square metre refuelling yard at RAF Waddington.
In 2018, Minster introduced more cutting edge technology to increase its ability to cut waste, improve quality and reduce emissions. This included the trialling of recycled plastic as a binding agent in pothole repair, the use of GPS tracking and temperature monitoring technology for quality control and the use of 3D vehicle-mounted laser scanners to improve accuracy and quality.
Who we are today
Today, after a series of record years for the business, Minster is leading the way for modern civil engineering and has won a series of green awards, including one of the most prestigious green business awards in the country; the BusinessGreen Leaders Award for Circular Economy Project of the Year.
Now beginning its third decade, Minster is starting a new chapter with the launch of the Minster Group brand. Our new name, branding and website reflect Minster's position as a trusted supplier and contractor working on major infrastructure projects across the country and beyond.
Minster Group works with leading commercial and residential developers, it repairs roads across Lincolnshire, Oxfordshire, Cambridgeshire, Hampshire and Shropshire and works on behalf of Transport for London alongside supply chain partners. We work nationwide for the MoD and we're helping all our clients to achieve great results that help them to grow while being environmentally responsible.
Minster Group's new look reflects who we are now: It retains some of the imagery that's been associated with Minster for the last 20 years, while firmly positioning us as the modern, forward thinking, professional company that we are.
"When we started Minster 20 years ago, it was a big gamble. I remortgaged the house to cover our startup costs and we worked hard to make ends meet. Looking back, the business has been a real success story. I'm really proud of how we've risen to meet every challenge we've faced and we've worked on some amazing projects. I never would have thought that we'd grow to work on civil engineering projects as big as what we're working on now and we're continuing to innovate and grow.

"Although we have a new logo, a new website and a new group name, we still have the same values and the same dedication to innovation, sustainability and quality which Minster Surfacing and Alliance Recycling are known for. We've earned the trust of major developers, councils and the Ministry of Defence and we're committed to supporting local supply chains wherever we work.

"With our two companies, Minster Group is a major player in the civil engineering sector and we're continuing our mission to modernise the road surfacing industry by being at the cutting edge of technology and the green revolution. We're capable of far bigger things than we were before and now we have a brand that reflects that and where we're going in future."

Managing director, Bruce Spencer-Knott
Find out more about Minster's journey by reading our case study pages. If you'd like to enquire about our services, contact us.